PUTALL
Project information
Click on the left for 3D view of the Unit
Our product is a collection of waste-storage solutions that make household waste sorting convenient, elegant and visible. It establishes and reinforces waste segregation habits, and adds an aspirational value and a sense of pride around the habit of segregation.
Impact
This solution will benefit: Household-waste segregators - by being a convenient & elegant product that makes it easy to organise and store dry waste 
Recycling businesses - These storage products become mini 'urban mines' in each household, from where segregated recyclables can be directly sourced.
Local Municipal Solid Waste Management - Increased recycling has the potential to divert more than 70% of household waste away from landfills, thus reducing the total amount of waste disposed in the landfill on a daily basis.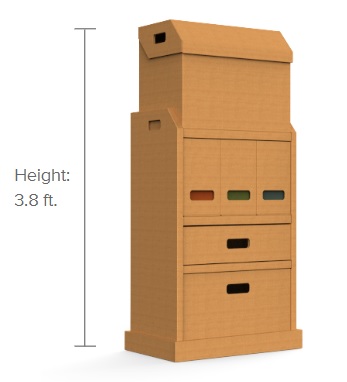 The product designed by us is a low cost, compact product manufactured from cardboard. This enables the users to store all the typical categories of recyclable waste like:
Newspapers,
paper waste,
plastic and glass containers,
metal and e-waste,
other landfill-able waste like medical and hazardous waste In the different allotted sections of the unit.